Bankruptcy Places - Districts, Divisions, Counties in North Carolina
The United States Bankruptcy Court is a federal court using a combination of federal law, such as the Bankruptcy Code, and state laws, such as the North Carolina exemptions statute. This page attempts to provide a detailed explanation of the geographic facts of bankruptcy in North Carolina.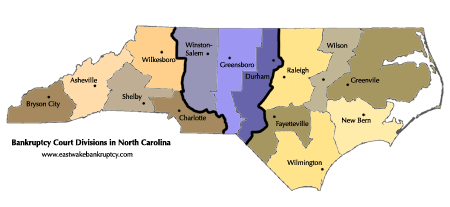 Districts
North Carolina is organized into three federal judicial districts, the Western District of North Carolina, Middle District of North Carolina, and Eastern District of North Carolina. Each district is a separate and distinct administrative and jurisdictional unit. Each has its own set of Bankruptcy Judges, a separate Clerk of Bankruptcy Court, and United States Bankruptcy Administrator. The rules and judicial precedents are not the same in district, resulting in both procedural and substantive differences among the districts. As such, one must be cautious before applying any case law or past experience from one district in another.
The Western District is headquartered in Charlotte, with an additional staffed office in Asheville. The Middle District is headquartered in Greensboro, with an second staffed office in Winston-Salem. The Eastern District is headquartered in Wilson, with a major office in Raleigh.
Divisons
The Bankruptcy Court in each of the three judicial districts has organized itself into several divisions. Totaling 14, these divisions break down as follows:
United States Bankruptcy Court,
Eastern District of North Carolina
Fayetteville Division
Greenville Division
New Bern Division
Raleigh Division
Wilmington Division
Wilson Division
United States Bankruptcy Court,
Middle District of North Carolina
Durham Division
Greensboro Division
Winston-Salem Division
United States Bankruptcy Court,
Western District of North Carolina
Asheville Division
Bryson City Division
Charlotte Division
Shelby Division
Wilkesboro Division
Compared to the districts, the consequence of a case being in a particular division are not as significant. Nevertheless, a divisional assignment might influence what bankruptcy judge and trustee are assigned to a case, and will impact where and when the creditor's meeting and court hearings will be. Unlike the districts, which are set by federal statute and are unlikely to change, the divisions change from time-to-time as the needs of district and personnel change.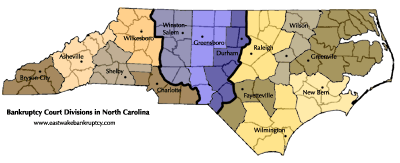 Counties
District and divisional boundaries are drawn on county lines. The following table lists each North Carolina county with its district and current division.
Division
North Carolina Counties
Eastern District
Greenville
Beaufort, Bertie, Camden, Chowan, Currituck, Dare, Gates, Greene, Hertford, Hyde, Martin, Pasquotank, Perquimans, Pitt, Tyrrell, Washington
Fayetteville
Cumberland, Robeson, Sampson
New Bern
Carteret, Craven, Jones, Lenior, Onslow, Pamlico
Raleigh
Franklin, Granville, Harnett, Johnston, Nash, Vance, Wake, Warren
Wilmington
Bladen, Brunswick, Columbus, Duplin, New Hanover, Pender
Wilson
Edgecombe, Halifax, Northampton, Wayne, Wilson
Middle District
Durham
Chatham, Durham, Hoke, Lee, Moore, Orange, Person, Scotland
Greensboro
Alamance, Caswell, Guilford, Montgomery, Randolph, Richmond, Rockingham
Winston-Salem
Cabarrus, Davidson, Davie, Forsyth, Rowan, Stanly, Stokes, Surry, Yadkin
Western District
Asheville
Avery, Buncombe, Haywood, Henderson, Madison, Mitchell, Transylvania, Yancey
Bryson City
Cherokee, Clay, Graham, Jackson, Macon, Swain
Charlotte
Anson, Gaston, Mecklenburg, Union
Shelby
Burke, Cleveland, McDowell, Lincoln, Polk, Rutherford
Wilkesboro
Alexander, Alleghany, Ashe, Caldwell, Catawba, Iredell, Watauga, Wilkes
Counties We Serve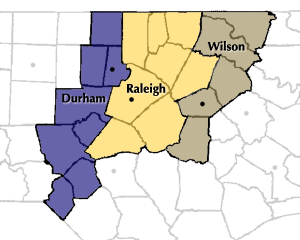 At Fabricius & Fabricius PLLC, we will generally represent debtors and other interested parties in the Raleigh and Wilson Divisions of the Eastern District of North Carolina, and in the Durham Division of the Middle District of North Carolina. Such divisions include the following 21 NC counties: Chatham, Durham, Edgecombe, Franklin, Granville, Halifax, Harnett, Hoke, Johnston, Lee, Moore, Nash, Northampton, Orange, Person, Scotland, Vance, Wake, Warren, Wayne, and Wilson
Venue (and Division Assignment)
What district a bankruptcy case is heard in depends on which district it was filed in. The filing debtor has first choice on what district in which to proceed. However, such is limited by the Bankruptcy venue statute, 28 U.S.C. 1408. For individuals, venue is proper under that statute in the district of domicile, residence, principal place of business, or location of principal assets. Filing out of district where venue is not proper is uniformly discouraged. If legitimately a matter of convenience, one should consult with a bankruptcy attorney to determine if wise to proceed. Filing out of district in order to take advantage of a more favorable legal rule will generally draw a objection from a creditor, trustee, or the bankruptcy administrator. Such objection and potential transfer or dismissal adds to the complexity and cost a bankruptcy case.
Divisions are automatically assigned by the clerk's office of each court based on county of residence. (see, e.g., Local Rule 1073-1, WD; Local Rule 1073-1, ED) Cases proceeding outside of division are relatively uncommon, but may occur upon order of the court. A debtor might seek a divisional reassignment for cause, or it might occur due to an issue with another party. For example, a conflict-of-interest involving the Standing Chapter 13 Trustee for a division might result in transfer of the case to another division within the district, if only one Standing Trustee is assigned to the division.