Our Bankruptcy Attorney Service Area
We can assist individuals filing bankruptcy throughout east-central North Carolina
Erich Fabricius, our bankruptcy attorney, is licensed to practice law in North Carolina, and admitted to practice before the bankruptcy courts in the Eastern and Middle Districts of North Carolina. In order to best serve clients, we generally will undertake a consumer bankruptcy representation only when the petition would be filed in Durham, Raleigh, or Wilson. We will evaluate cases in other parts of North Carolina, and if we can economically and comprehensively assist a client, we will accept and file the case. We also know excellent bankruptcy attorneys across the state, and can refer you if you are in a location where they can best assist you.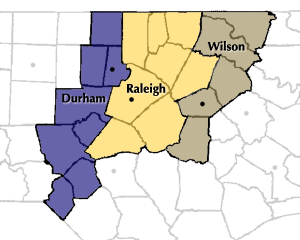 The Divisions encompassing Durham, Raleigh, and Wilson include include the following 21 NC counties: Chatham, Durham, Edgecombe, Franklin, Granville, Halifax, Harnett, Hoke, Johnston, Lee, Moore, Nash, Northampton, Orange, Person, Scotland, Vance, Wake, Warren, Wayne, and Wilson. For most purposes, the county where you reside is the county associated with your bankruptcy filing. Our office is a thirty-minute or less drive for all or parts of the cities and towns of Knightdale, Wendell, Zebulon, Spring Hope, Rolesville, Wake Forest, Clayton, Garner, Raleigh, and Cary.
To learn more about the geographic organization of the bankruptcy courts in North Carolina, please see our Districts, Divisions, and Counties in North Carolina page.